Introduction
Cybersecurity threats and attacks are rising as digital technologies become increasingly embedded in our lives.
We've seen a marked increase in high-profile breaches and data thefts in recent years which left companies and individuals scrambling to protect themselves against new sophisticated cybercriminals.
However, with new technology comes innovation; cybersecurity experts have forecasted several emerging cybersecurity trends for 2023 that will help organizations stay ahead by identifying potential threats in their industries.
This blog post explores some of the top cybersecurity trends, technologies, and institutional changes for 2023, so online users and organizations can prepare accordingly.
Cyber Threat Trends in 2023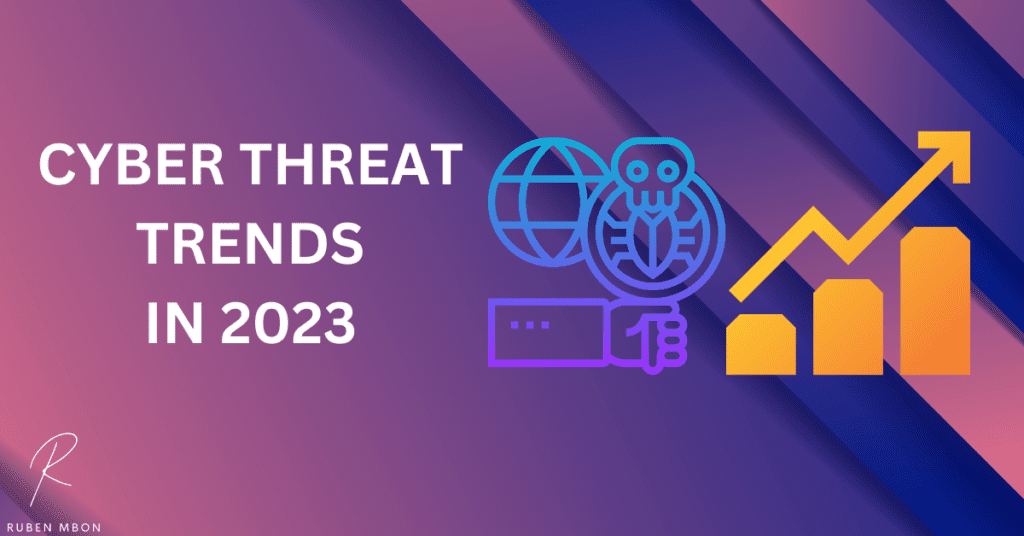 As our lives become inextricably intertwined with digital technologies, the risk of cyber security breaches and data thefts is continually growing. In recent years we have seen a dramatic jump in high-profile incidents that have left companies scrambling to stay one step ahead of sophisticated criminals. 2023 will be no different as threats continue to evolve and increase exponentially at an alarming rate.
1. The Continued Growth of Ransomware
2023 is projected to be a tumultuous year in cybersecurity, and the continued growth of ransomware attacks is one of the most concerning cybersecurity trends. Cybercriminals will continue to develop new methods of exploiting digital systems and networks, making this threat increasingly difficult to defend against.
Companies must invest in proactive cybersecurity solutions, such as intelligence-led security operations, threat hunting, and more secure IT implementations, to stay ahead of this thread. Additionally, individuals need to prioritize cybersecurity best practices like creating strong passwords and backing up important files regularly to be better prepared should they become a victim of an attack.
2. Increased Attacks on Cloud-based Systems
In 2023, the cybersecurity landscape faces a new challenge as attacks increasingly target cloud-based systems. This rapidly growing risk threatens companies, governments, and individuals worldwide. Tools to protect against these threats have evolved, but organizations must remain vigilant regarding safeguarding their data in the cloud.
3. More Sophisticated Phishing Scams
We can expect even more sophisticated phishing scams as cybersecurity trends evolve in 2023. Cybercriminals are adapting their strategies, using email attachment spoofing, malicious URLs, and malware-laced content to bypass existing measures.
Organizations must ensure they keep up with the security challenges posed by these sophisticated attacks, as failure to do so could lead to serious data breaches.
You can learn more about phishing by reading the following:
4. Increase in Cyberattacks Against Critical Infrastructure
Cyberattacks against critical infrastructures are rising, and cybersecurity trends in 2023 indicate that this issue does not show signs of abating soon. Cyberattacks have become increasingly complex, with criminals targeting multiple areas of digital infrastructure concurrently.
This amplifies the damage caused by breaches, as few professionals have expertise in this area, and organizations are not equipped to shield their critical infrastructures effectively. Moreover, these attacks' recent successes only encourage cyber criminals further.
5. The Continued Popularity of Dark Web Marketplaces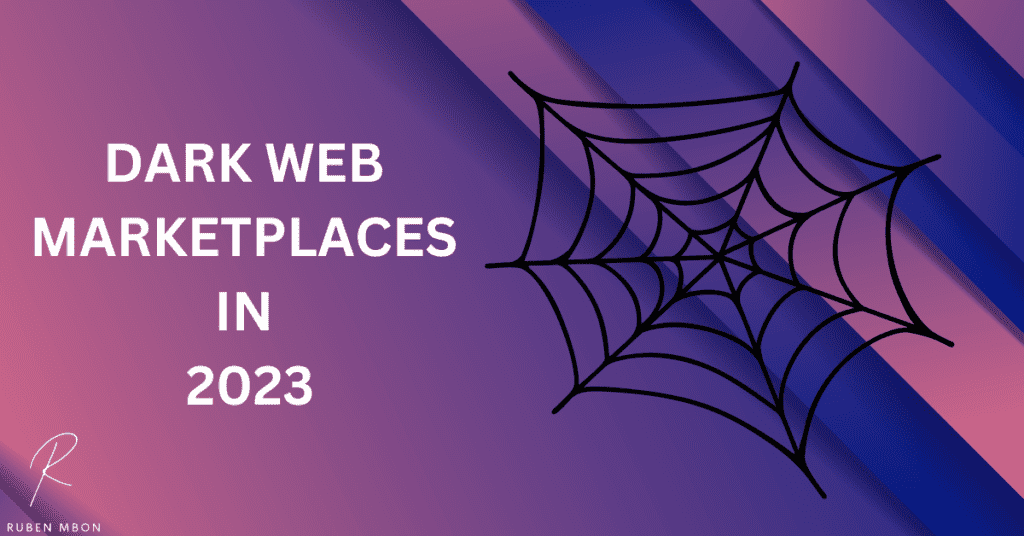 Over the past few years, dark web marketplaces have gained immense popularity due to their ability to facilitate transactions that are virtually impossible to trace. Despite cybersecurity trends advancing in 2023, there is no indication that this activity will slow down.
Dark web marketplaces will likely remain popular among criminals and those who wish to conduct anonymous transactions due to their relative ease of access and level of security and anonymity.
6. The Potential use of Quantum Technology for Hacking Purposes
As technology progresses, so will quantum technology. It is predicted that in 2030 we may see a leap forward in quantum tech; unfortunately, this same surge could be used by malicious actors to wreak havoc on the world. Also, it's projected that the trend might happen even earlier, and 2023 may have some indications.
7. The Growing use of Social Media Networks for Hacking Purposes
In 2023, threat actors will increasingly take advantage of the prevalence of social media networks to target vulnerable organizations. With more and more individuals joining social media platforms, cybercriminals have had greater access to personal information, which can be leveraged for phishing scams or identity fraud.
Social networks have provided hackers with an entry point into companies that may not be prepared to face cyber threats. In response, businesses must take the necessary steps to protect themselves against these types of attacks by ensuring their security protocols are up-to-date, and their employees can recognize potential threats posed by cybercriminals on social media.
8. The Return of Politically Motivated "Hacktivism" Groups
As the world's political climate rapidly shifts, 2023 will see a resurfacing of 'hacktivism' – the strategic use of information technology for ideologically motivated protest. While the concept first appeared in the early 2000s, by mid-decade, these movements had seemingly ended by increased governmental surveillance and penalties for digital dissent.
However, as society's younger generations become progressively more conscious of socio-political injustice and partake in civil disobedience, hacktivists have emerged as key players in bringing attention to social issues through organized cyber protests.
9. Continued Skill Shortage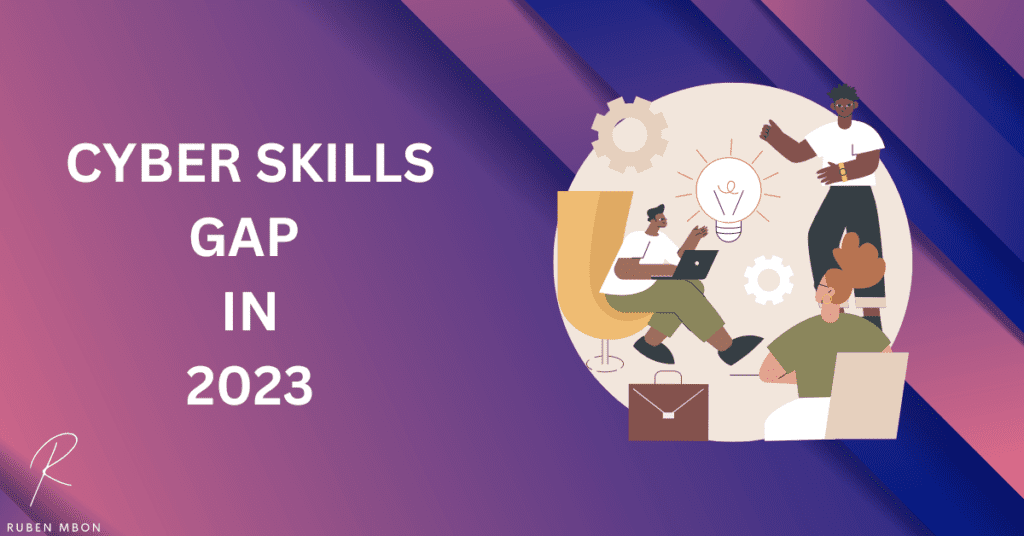 It has been reported that the cybersecurity talent gap has grown by 26.2% in the past year and that there could be around 3.4 million unfilled jobs worldwide.
The need for highly skilled professionals in the cybersecurity industry is projected to continue through 2023. With an increasing reliance on digital data and technology, along with a rapid expansion of work moving online, organizations of all kinds will require reliable means to protect their information from malicious actors.
Unfortunately, despite the explosive growth in demand for the profession, the limited number of candidates makes it difficult for businesses to identify and retain the talent they need. One way to avoid a long-term skill shortage in this field is for organizations to invest heavily in training and development programs that would attract more potential workers into the sector while also providing specialized and updated skill sets to those already within it.
By taking this essential step towards bridging the powerful gap between employer needs and employee availability, specialists can ensure continued success in protecting individuals, businesses, and governments from future cyber threats.
10. Mobile Device Threats
In 2023, mobile devices will present a heightened threat to businesses and individuals across the globe. Smartphones, laptops and other portable consumer electronics will become more ubiquitous than ever due partly to their wide availability and convenience.
Sadly, this also means cybercriminals can use these technologies to penetrate computer networks and wreak havoc on organizations' data. The potential risks posed by these mobile devices range from security breaches resulting in stolen customer information or proprietary company capital to malware-infected apps compromising the integrity of confidential data stored on corporate networks.
11. The Rise of Cybercrime as a Business Model
Despite improvements in cybersecurity over the past few years, cybercrime will continue to be an increasingly lucrative business model for criminals in 2023.
An uptick in ransomware attacks and data breaches on organizations of all sizes has made online criminals more successful than ever, with little risk or accountability for their actions. With advanced AI-driven hacking tools and anonymized networks to help them remain anonymous, cybercriminals can stay one step ahead of the law.
12. Remote work continues to Pose Risks
With the rapid rise of remote work during the pandemic, companies have had to ensure they're able to protect their workforce while also recognizing the challenges associated with this new way of doing business. While remote work can come with certain benefits, like cost and energy savings, it also poses some risks—cybersecurity and data privacy being two key issues.
Companies must be proactive in developing policies that protect employees and ensure that sensitive data is kept secure. Employees should be provided education and resources to understand their cybersecurity and data privacy responsibilities, which will help minimize potential risks posed by remote work.
13. Supply Chain and Third-party Compromises Increase
As technology advances, the need for efficient supply chains is greater. Unfortunately, this means that the threat of third-party compromises has also risen dramatically. Companies must ensure their networks are secure and up to date with proper risk management protocols. Companies should be aware of the potential cyber threats coming from both external and internal sources, as these tend to expand in 2023.
Trends in Institutions' Cyber Response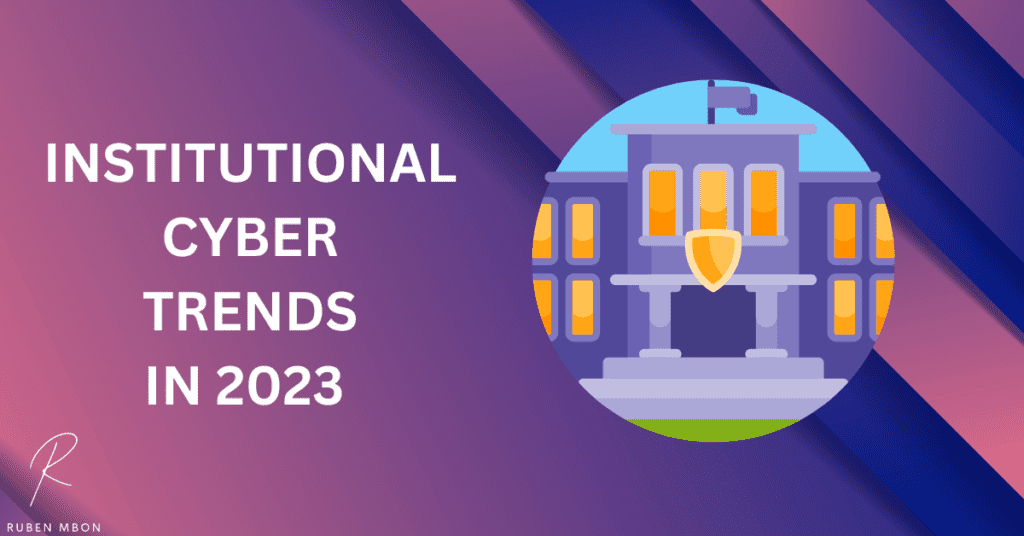 In the decade since 2013, cyber threats have become increasingly sophisticated and creative, forcing governments and businesses to reassess their cybersecurity strategies regularly. As we move into 2023, organizations should continue investing in various approaches to protect their networks from breaches and other malicious activities.
14. Increased Investments in Cyber R&D
2023 is expected to be an enthralling year in cybersecurity, with predicted enhancements in research and development investments likely to raise cybersecurity to unprecedented heights. As attackers become increasingly sophisticated and dangerous, governments, businesses, and organizations have no choice but to bolster their protections.
It is estimated that the total market size for information security and risk-management spending will be more than $188 billion in 2023, representing a greater than 11% increase relative to 2022.
15. A Greater Focus on Training and Awareness Initiatives
It is envisioned that organizations will pay greater attention to cybersecurity training and awareness initiatives. As cybercriminals become more sophisticated and digital systems become increasingly complex, an educated workforce on security standards is essential. Organizations will continue to prioritize taking proactive steps to promote a culture of secure computing behavior, ensuring that employees are informed about the latest threats and have the skills to recognize and mitigate them.
16. Greater Collaboration Between the Public and Private Sectors
In 2023, the public and private sectors are poised to create a much stronger partnership to mitigate cyberattack effects. Through collaboration between policymakers, researchers, and corporations, more effective strategies and tools can be developed to guard against malicious threats.
Public-private joint initiatives will provide better resources for professionals in protecting networks, data storage systems, and consumer information. Furthermore, potentially catastrophic scenarios can be anticipated earlier as governmental organizations share guidance on the latest trends in cybercrime, with companies providing their own skill sets for developing secure technologies.
17. New Regulations Targeting Privacy and Data Protection
The ever-evolving technological advances of the 21st century have led to a pressing need for increased attention to data privacy and security. To protect the public from potential risks, new regulations targeting privacy and data protection practices are expected to be implemented by 2023 to enhance user safety.
These regulations will inform businesses about their responsibility in handling personal information in the digital age and impose penalties for those in violation of user privacy standards. However, it is ultimately up to corporations to prioritize data protection through ethical business standards despite stricter government rules.
18. A Growing Emphasis on Cybersecurity Best Practices in the Healthcare Industry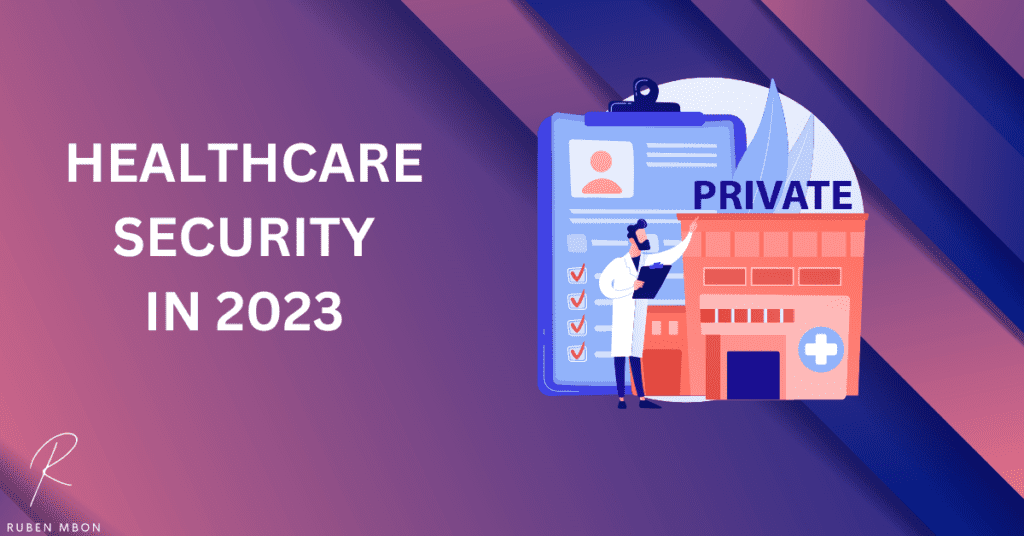 The Healthcare industry will be under increased pressure to prioritize cybersecurity best practices and protect their data from cyber breaches. Taking an anticipatory approach to cybersecurity is essential, as the risks associated with the theft of patient data and the mishandling of private information are substantial.
This shift has already begun, as health networks are transitioning to more sophisticated digital infrastructures backed by stronger security measures. As this trend continues, organizations must stay up-to-date on new developments in the cybersecurity landscape.
19. A Growing Focus on IoT Security and Risk Management
The focus on security and risk management in terms of Internet of Things (IoT) infrastructure will become increasingly prevalent across businesses. Recognizing the potential impacts of cyber threats to IoT systems and data, organizations are increasingly committing to institute measures to isolate and protect any vulnerable points in their connected networks.
The need for greater security is bolstered by recent reports showing increases in the number of IoT devices used and the rate at which cyber attackers target such systems. As a result, comprehensive solutions catering to secure management and risk reduction must be integrated into organizations' operations to remain resilient against security breaches.
20. The Role of Boards in Cybersecurity
In 2023, company boards' role in cybersecurity won't only be to monitor developments but take a more active role. Their vision for sustainability should include proactive controls for cyber threats, such as championing proper protective measures and policies across the organization.
Boards should also embrace public-private efforts like information sharing so that attack patterns can be monitored easily. Cybersecurity is a growing concern, and its importance will only increase in the coming years, making it essential for boards to be aware of its potential impact on industries' long-term growth.
21. Consolidation Among Cybersecurity Companies Will Continue
Consolidation via mergers and acquisitions is forecasted to remain strong in 2023. As internet technology continues to evolve, it will become increasingly imperative for companies to join forces with larger firms with access to viable resources and the most effective security measures.
Mergers and acquisitions will improve strategic scalability, provide a solid foundation for industry breakthroughs, and create space for future growth.
Cyber Technology Trends in 2023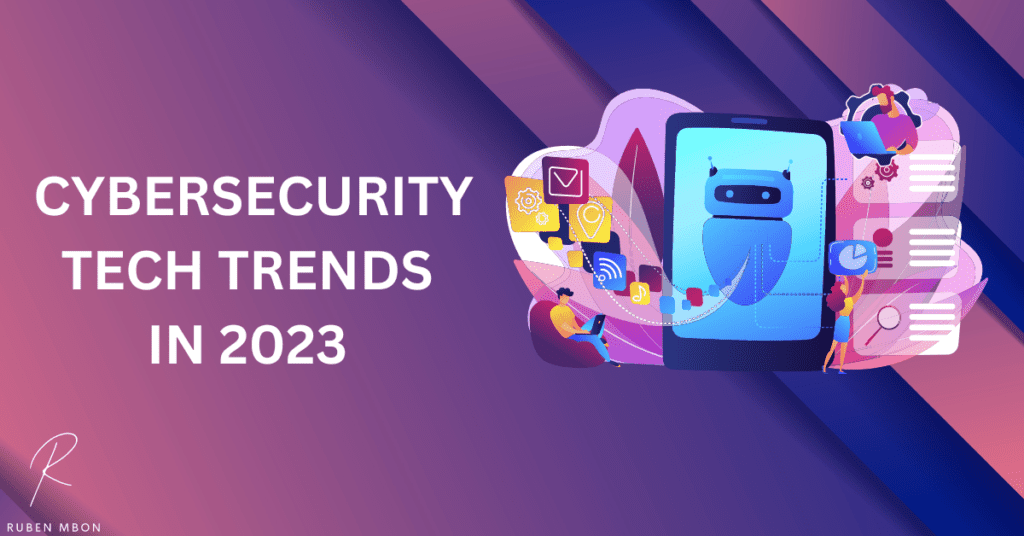 Cyber technology continues to evolve and shape the future of our world. In 2023, we'll continue to see changes in the use of cyber technologies across different industries. IoT, AI, and blockchain are just a few advancements that will create new opportunities to leverage technology in new ways.
22. The Increased Use of AI in Cybersecurity
In 2023, artificial intelligence (AI) is expected to take a prominent role in cybersecurity. AI can quickly and accurately detect security threats by analyzing vast amounts of data using sophisticated algorithms. With its ability to rapidly identify malicious activities and alert organizations before damage can occur, AI may give businesses an edge in staying ahead of cybercriminals.
23. More Widespread Use of Biometric Authentication
Biometric authentication is becoming increasingly popular for verifying identity with improved accuracy and efficiency. Next year, biometric authentication could become a preferred method of verifying identity across several industries, ranging from financial services to healthcare.
It has the potential to improve both security and convenience by not only sparing users from relying on passwords but ultimately reducing fraud exposure while allowing quick access to sensitive information and systems.
24. The Growing Use of Blockchain and Other Decentralized Technologies in Cybersecurity
In 2023, we can expect a continued rise in using blockchain and other decentralized technologies for cybersecurity purposes. These cutting-edge technologies will allow companies to protect their IT infrastructure from threats like data manipulation, data breaches, and ransomware attacks.
Distributed ledger technology offers many advantages over traditional systems for safety and data integrity; for instance, it provides better traceability of user activity and enhanced cryptography, improving the security of a system.
25. New Approaches to Data Encryption and Network Security
The effectiveness of current data encryption and network security methods will likely continue to be tested as networks become more complex and systems become increasingly interconnected. Companies can stay secure by employing new data encryption and network security approaches, considering sophisticated threats and ever-changing cyber defense tactics.
26. The Increased Use of Cryptocurrency in Online Transactions
In 2023, the use of cryptocurrency and digital currencies for online transactions is set to become increasingly popular. Cryptocurrencies offer users various benefits, including greater security, transparency, and faster transaction speeds than traditional payment methods.
Furthermore, blockchain-based technology, which enables cryptocurrencies to operate, is gaining more adoption as businesses explore additional opportunities to leverage this technology within an array of applications, such as sending payments overseas and developing innovative financial services.
27. The Use of Cybersecurity Automation
Automation is one of the top cybersecurity trends for 2023 to watch out for. It is expected to continue to be prevalent within the industry. Automation provides a streamlined, time-saving way to carry out tedious manual processes while enhancing security oversight. Additionally, it can be invaluable in bridging the skills gap many cybersecurity teams struggle with.
Frequently Asked Questions
What is the #1 cybersecurity threat today?
Phishing is presently the most hazardous cyber threat, with fraudulent emails designed to manipulate targets into giving away sensitive information. As phishing attacks become more intricate and difficult to recognize, they become a major risk for companies and people.
What are the biggest cyber security threats in 2022?
The biggest cybersecurity threats businesses face in 2022 include ransomware attacks, phishing scams, distributed denial of service (DDoS) attacks, malicious software such as malware and Trojans, and data breaches.
What will cybersecurity look like in 2025?
As we move closer to 2025, cybersecurity will become increasingly complex as new trends emerge. The following advancements are likely to shape the future of this field:
– There will be more AI-based cyber solutions
– Increased use of blockchain for cyber protection
– A greater collaboration between humans and machines
– And more connected devices
What will cybersecurity look like in 10 years?
Cybersecurity is consistently shifting, and it's nearly impossible to determine precisely what the industry will look like in a decade. Yet, some trends will likely influence this domain in the forthcoming years.
– One trend likely to continue is the increasing use of artificial intelligence (AI) and machine learning in cyber security.
– Another trend likely to shape the future of cyber security is the increasing use of biometrics.
– The increasing connectivity of devices is also likely to impact cyber security in the future.
– Finally, the increasing use of cloud computing will also likely shape the future of cyber security.
Conclusion
As we increasingly rely on digital technologies, it's important to stay ahead of the curve regarding cybersecurity. Attackers are always finding new ways to exploit vulnerabilities, so experts must continually innovate their defenses.
Understanding some of the top cybersecurity trends for 2023 allows users and organizations to be better prepared against potential attacks.