Introduction
We've all been there – you're browsing the internet, and a suspicious email pops up in your inbox. You click on it out of curiosity, only to find that you have just accidentally clicked on a phishing link. It's an easy mistake to make, but one with potentially dire consequences if not dealt with quickly and correctly. This leads to an obvious and essential question: what to do if I clicked on a phishing link?
In this blog post, I'll discuss what happens when someone clicks on a phishing link, how they can contain any damage done and the steps for recovery. We will also provide some helpful tips so that users are better equipped to recognize potential malicious links before clicking them.
Identifying a Phishing Link
Recognizing Suspicious Links
Recognizing suspicious links is one of the most important steps in identifying a phishing link during phishing attacks. This can be done by looking for unusual and odd URLs. It's also important to look out for emails that appear to come from an unfamiliar source, especially if they contain suspicious files or ask you to click on a link.
Examining the URL
Once you've identified a potentially malicious link, it's time to examine the URL. Look closely at the domain name; if it doesn't match what you'd expect from a legitimate website, it could be part of a phishing attempt.
Additionally, check for typos and other signs that indicate spoofing or tampering with the URL.
Once you have identified a phishing link, it is important to take immediate action to contain the threat. The next step is to perform containment steps such as disconnecting from the network, scanning for malware and viruses, and changing passwords and security questions.
Containment Steps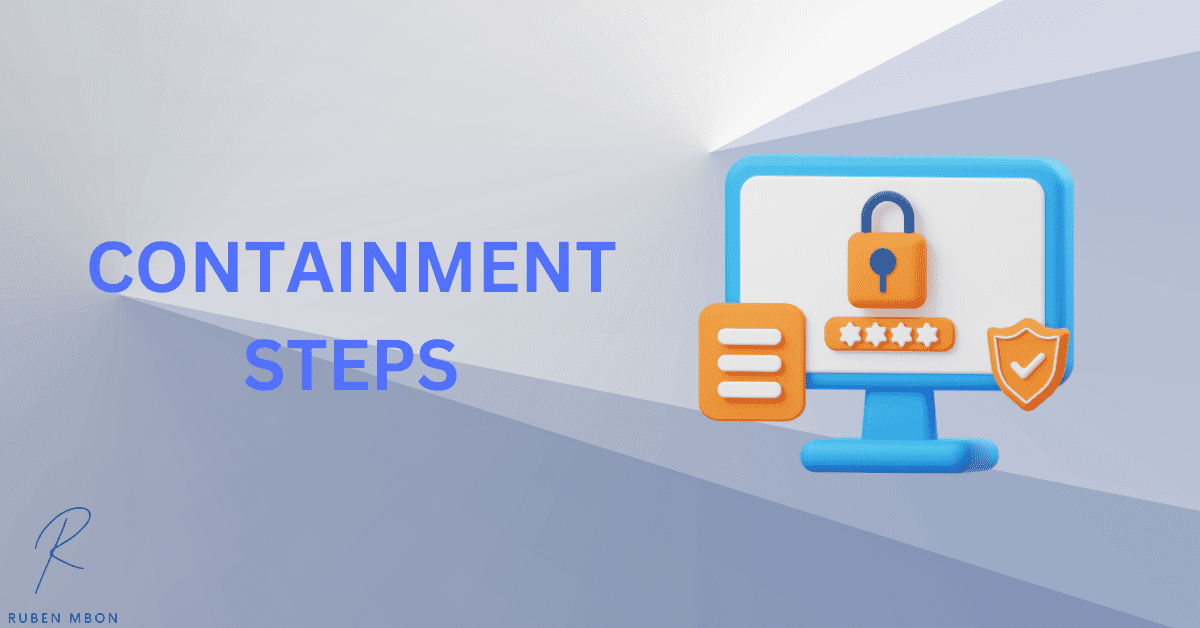 Disconnecting from the Network:
As soon as you suspect that a phishing link has been clicked, it is important to disconnect from the network. This will help prevent further damage and give your cybersecurity department or service provider time to investigate the incident. If possible, turn off Wi-Fi on all devices connected to the network and unplug any Ethernet cables.
Scanning for Malware and Viruses:
After disconnecting from the network, scanning your devices for malware and viruses is essential. Ensure you have up-to-date antivirus software installed on each device before scanning them individually.
Once you have scanned for malware and viruses, changing passwords associated with any accounts accessed through the phishing link and security questions used by those accounts is essential. Use strong and complex passwords for these accounts to protect yourself against future attacks.
Taking the necessary containment steps is important to reduce the risk of further damage. Now, let's look at what you can do to recover from a phishing attack.
Recovery Steps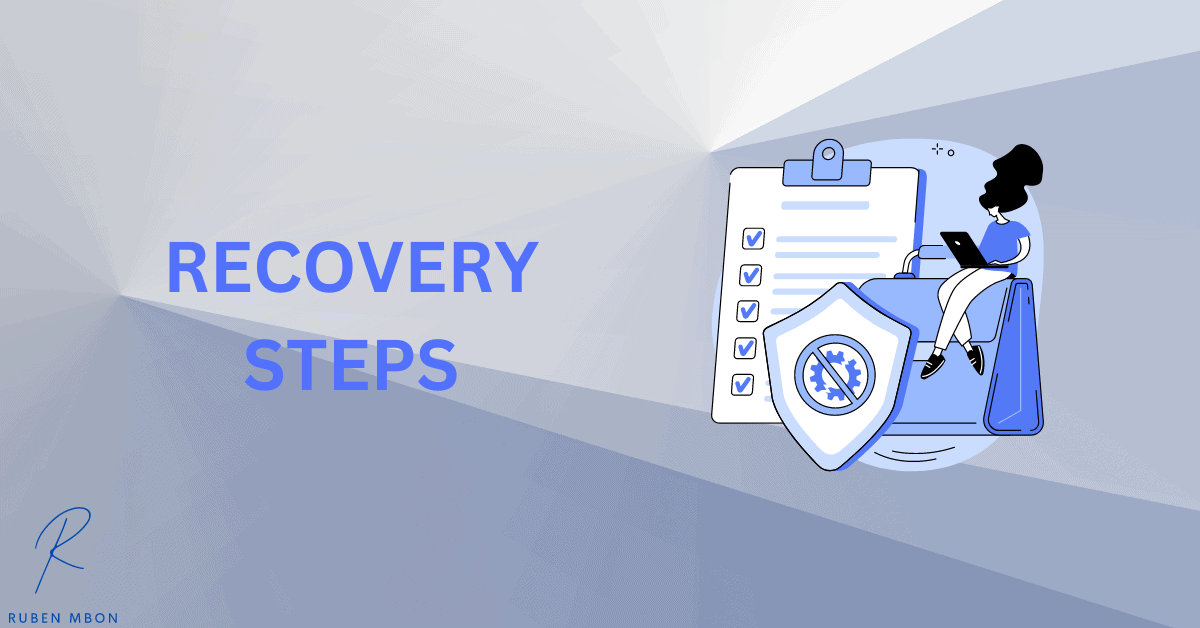 After containing the damage from a phishing attack, it is important to take steps to recover. The first step is to immediately contact your cybersecurity department or service provider. They will be able to provide assistance in restoring any lost data and help secure your systems against future attacks.
It is also essential to report the incident to law enforcement agencies (if authorized to do so) so that they can investigate and potentially prosecute those responsible for the attack.
Finally, it is essential that you monitor all of your accounts for unauthorized activity, as attackers may have gained access to sensitive information such as passwords or credit card numbers.
Eradication Steps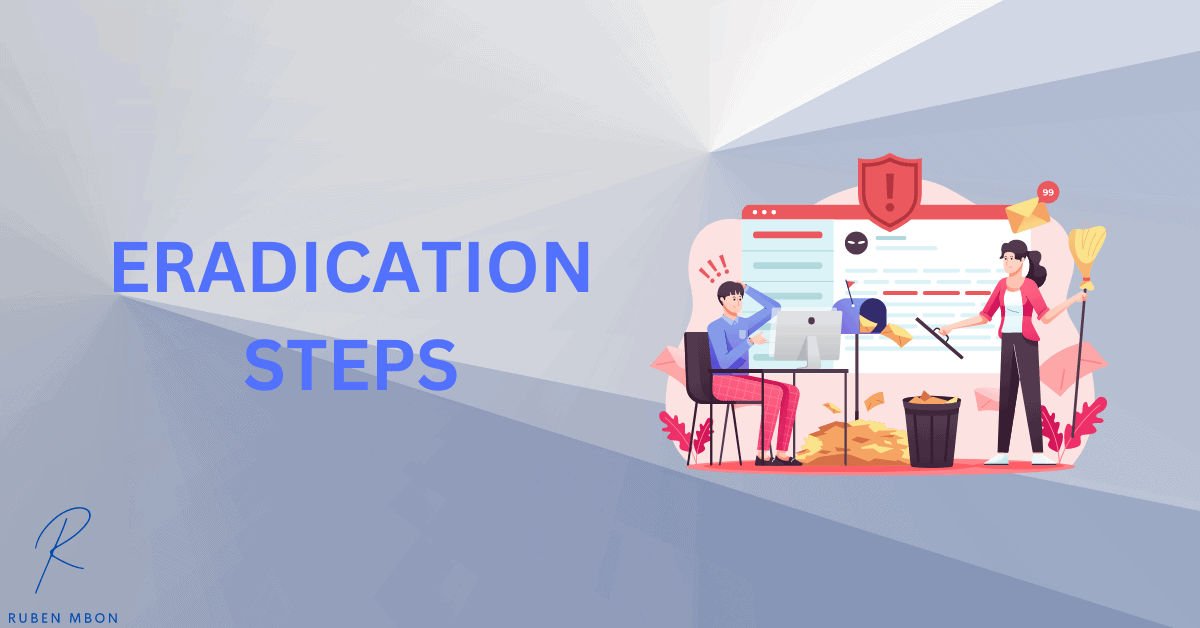 Reporting The Incident
To Law Enforcement Agencies
To report a phishing incident to law enforcement, provide details about when it occurred, who was targeted, how many users and assets were affected, and relevant details. Screenshots or copies of phishing emails sent during the attack can also aid in identifying perpetrators. This information helps law enforcement agencies hold perpetrators accountable.
To Internal Teams
Reporting a successful phishing attack to internal IT and Cybersecurity teams is important for organizational security. Prompt reporting of suspicious emails enables teams to respond to cyber threats, minimize damage, and prevent future incidents. Reports provide information to assess the impact and improve security measures and employee education on phishing recognition and reporting.
Monitoring Your Accounts For Unauthorized Activity
After taking the necessary steps to recover from clicking on a phishing link, it is important to understand how to prevent similar incidents in the future. The next section will provide tips for preventing phishing attacks.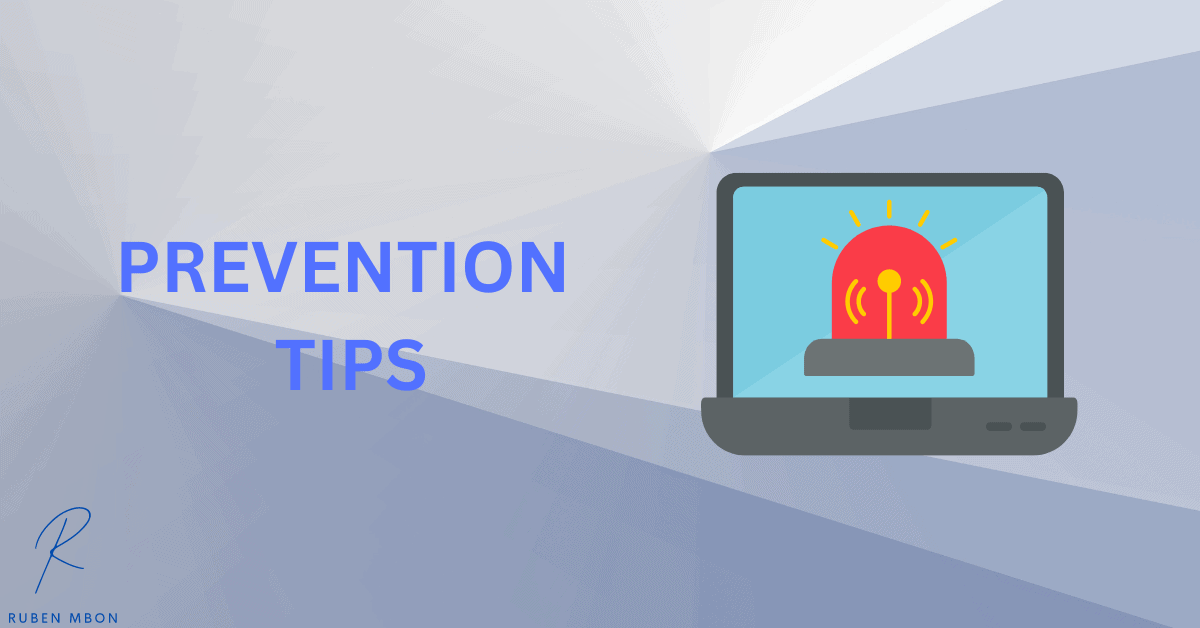 It is essential to take preventive measures against phishing attacks before they occur.
Preventing phishing attacks starts with being vigilant and aware of potential threats. Here are some tips to help protect against phishing:
Be wary of unsolicited emails or messages from unknown or suspicious sources

Don't click on phishing links or download attachments from unknown or suspicious sources

Be cautious of emails that ask for personal or sensitive information

Check for typos or grammatical errors in emails

Use unique and strong passwords; a password manager should help here

Keep software and security systems up-to-date

Educate yourself and others on the latest phishing tactics

Report any suspected phishing attempts to your IT department or Cybersecurity team.
Implementing these tips can help reduce the risk of falling victim to a phishing attack and staying cyber-safe.
Frequently Asked Questions
What happens if you accidentally click on a phishing link?
Clicking on a phishing link can infect your device with malware, enabling hackers to access sensitive information like passwords and financial data.
To prevent this, disconnect from the internet and run a full system scan using anti-virus software. If personal information is compromised, contact authorities and take measures to protect online accounts by changing passwords and enabling multi-factor authentication.
Should I be worried if I clicked on a phishing link?
Clicking on a phishing link is concerning as it can result in personal information theft or financial loss. Stay cautious online and avoid clicking on suspicious links from unknown sources. If you click on a phishing link, run an anti-virus scan and change potentially compromised passwords.
What if I clicked on a phishing link but did not enter details?
If you clicked on a phishing link but did not enter any details, it is still possible that your computer or device may have been compromised.
It is important to ensure your system's security and data by running scans with anti-malware software and updating all operating systems and applications.
Additionally, change any passwords associated with accounts that could have been affected by the malicious link. Finally, report the incident to your cybersecurity team
What happens if you accidentally click on a phishing link on iPhone?
Even if no details were entered after clicking a phishing link, your device might have still been impacted. Run anti-malware scans and update operating systems and apps to secure your system and data. Change passwords for potentially affected accounts and report the incident to your cybersecurity team.
Conclusion
It is important to remember that if you have clicked on a phishing link, it does not mean the end of the world. Following these steps and taking preventive measures can protect you from further damage and help you recover quickly.
Knowing how to identify phishing links and what actions to take when clicking on one will help you stay safe online. If in doubt, always double-check before clicking any suspicious link or downloading any attachments from an email – even if it looks like it came from someone you know.
Protect yourself and your data from cyber criminals by taking the necessary steps to keep your online presence safe. Equip yourself with knowledge of phishing scams, use secure passwords, and install reliable security software.