Introduction
Mobile device management (MDM) is an essential tool for businesses to stay secure and compliant with the ever-evolving landscape of mobile devices. Mobile Device Management software or solutions provide organizations with a powerful way to manage, monitor, and protect their network from any threats or risks associated with mobile devices.
In this blog post, we will discuss what exactly Mobile Device Management is, its key features, how to choose the right solution for your business, and some challenges faced when implementing such a system in your organization.
Finally, we'll review some best practices that should be considered when deploying MDM solutions within your company infrastructure.
What is Mobile Device Management (MDM)?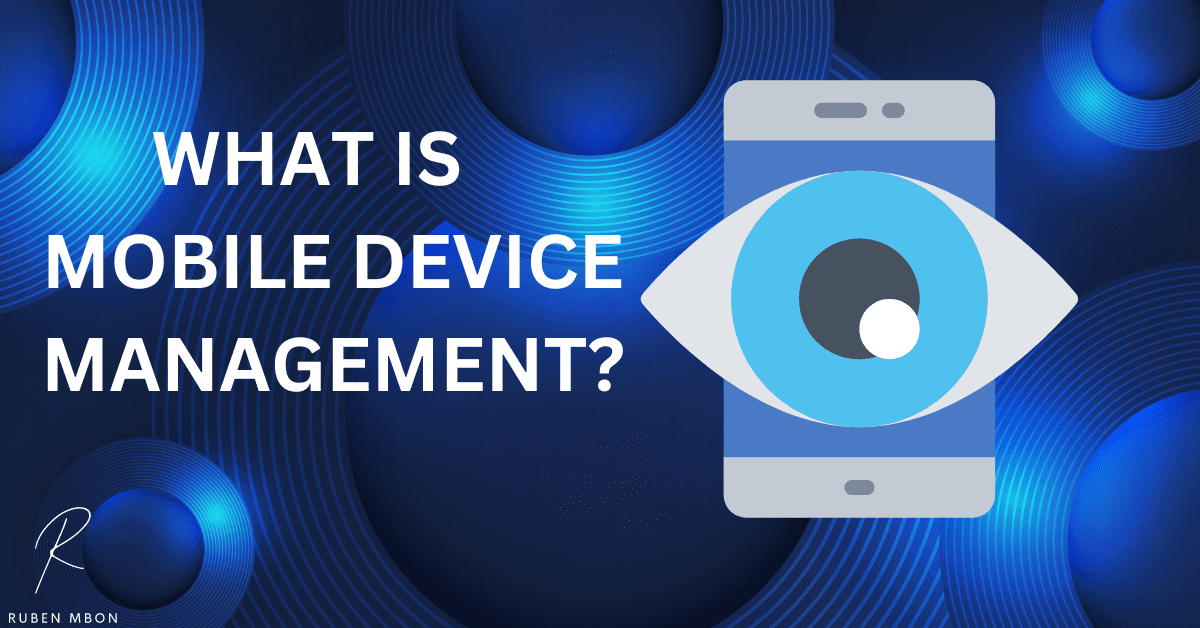 Mobile Device Management (MDM) is software that manages and secures mobile devices such as smartphones, tablets, and laptops. MDM solutions allow organizations to remotely configure settings, deploy applications, monitor usage data, enforce security policies, and more. Businesses can use an MDM solution to ensure that their mobile devices are secure and compliant with industry regulations.
Definition of MDM
Mobile Device Management (MDM) is a type of software designed to centrally manage the deployment and configuration of mobile devices in an organization's network. It provides administrators with tools for monitoring device usage data and enforcing security policies on all connected mobile devices. Additionally, it allows for remote installation or removal of applications from managed devices without user intervention.
Overview of MDM
An MDM solution typically consists of two components – a server-side component installed on the organization's internal network, which manages all connected mobile devices, and a client-side component installed on each individual device which communicates with the server-side component over an encrypted connection. The client-side component also provides users with access to certain features, such as application downloads or updates, while ensuring that all communication between the device and server remains secure.
Benefits Of MDM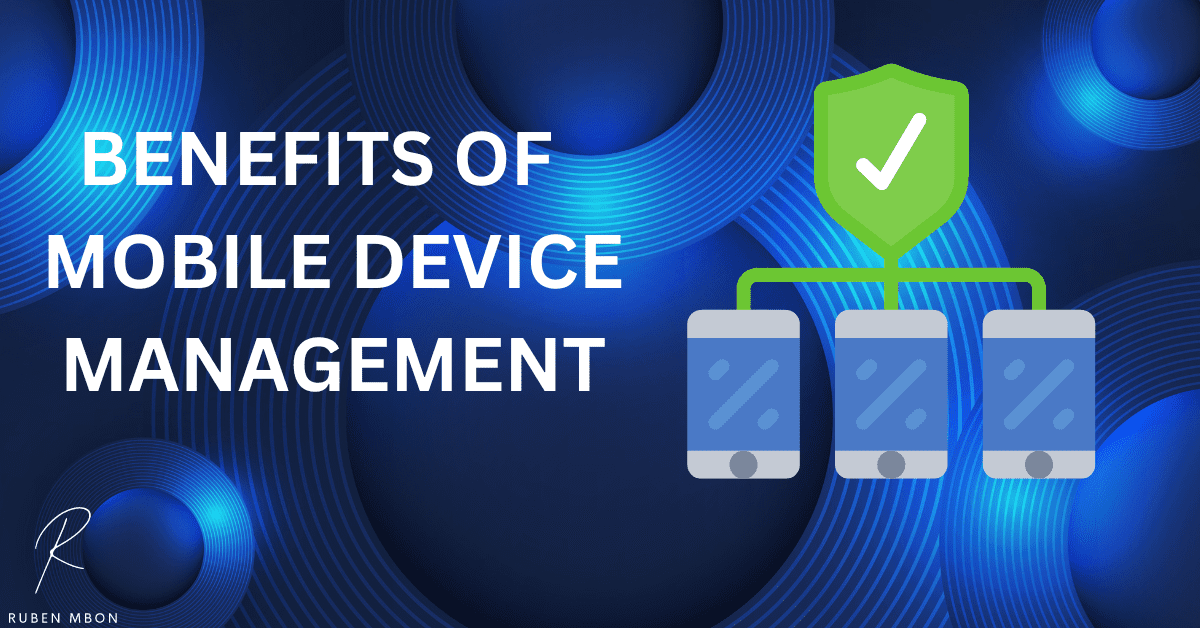 Remotely configure settings
MDM enables IT staff to remotely manage devices and remotely set preferences and settings for each device. Regardless of the type of device they are using, this assists businesses in ensuring that all of their employees are using the same settings and configurations.
Automate processes
Organizations can use MDM tools to automate processes like patch management and software updates. This facilitates IT staff to quickly deploy updates and patches to all devices, ensuring that the company always uses the most recent security patches.
Enhanced security
MDM can offer businesses added security features like remote device wiping, application restrictions, and device encryption. This aids businesses in safeguarding their corporate data and ensuring that only permitted users have access to it.
Better user experience
Businesses can give their end users a better experience by implementing MDM solutions. IT staff can monitor device performance and usage with MDM tools, making it simpler to spot any problems and quickly fix them. User satisfaction and productivity are enhanced as a result.
Cost savings
Organizations can reduce the time and expenses involved in managing numerous devices by automating procedures and implementing unified policies. MDM solutions also enable businesses to quickly detect potential security threats or vulnerabilities and fix them before they become a problem. This lowers an organization's overall operational expenses.
Ensure compliance with industry regulations
Organizations can ensure their devices adhere to industry standards and regulations by using an MDM solution. This assists businesses in avoiding any possible liabilities or penalties linked to non-compliance.
Types of Mobile Device Management Software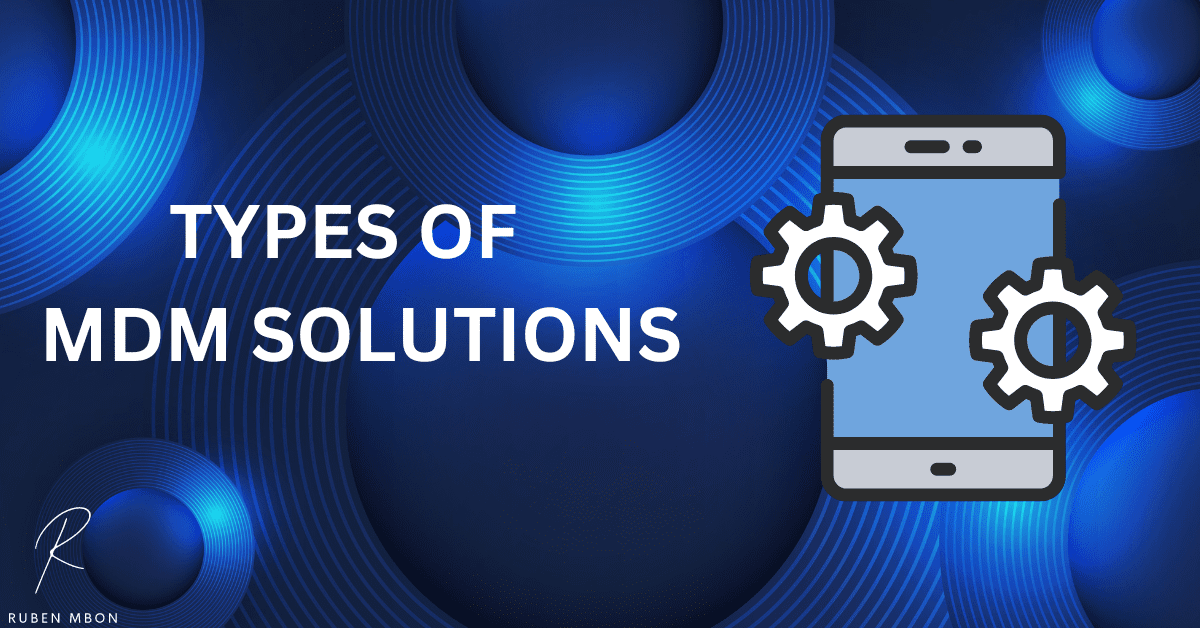 MDM software or solutions can be on-premise, cloud-based, or hybrid. Each type of solution has advantages and disadvantages that should be considered when selecting the right one for your business needs.
On-Premise MDM Solutions
On-Premise MDM Solutions are installed locally in the company's IT infrastructure and managed by internal staff. This solution provides complete control over security policies and allows for customization based on specific requirements. The downside is that it requires significant upfront investment in hardware and software and ongoing maintenance costs.
Cloud-Based MDM Solutions
Cloud-Based MDM Solutions are hosted remotely by third parties without needing local installation or hardware setup. These solutions provide easy scalability since they don't require additional resources to support increased user numbers or device types. They also offer cost savings due to their pay-as-you-go pricing model. Still, they may lack features compared to on-premise solutions, such as granular access control settings or detailed reporting capabilities.
Hybrid MDM Solutions
Hybrid MDM Solutions combine on-premise and cloud components, allowing companies to benefit from the best of both worlds: improved flexibility, scalability, and cost savings while maintaining complete control over security policies through an on-premise server component. However, this type of solution requires careful planning during the implementation phase to ensure seamless integration between two different systems.
Key Features of Mobile Device Management Solutions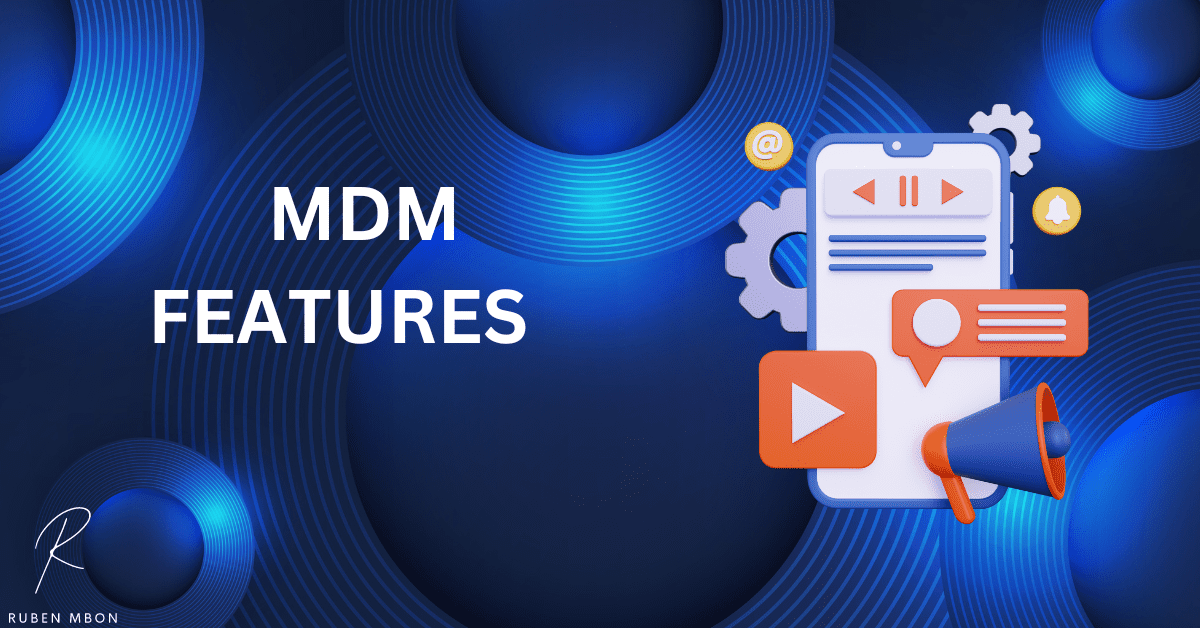 MDM solutions provide a range of features that enable organizations to monitor, configure, deploy, and manage applications on mobile devices.
Security and compliance monitoring
Security and compliance monitoring are key features of MDM solutions. These features allow IT administrators to track user activity on mobile devices in real-time, detect suspicious behaviors or activities that could lead to data breaches or other security incidents, and enforce policies related to device usage, such as password complexity requirements or access control lists.
Remote Configuration and Deployment Tools
Remote configuration tools allow IT admins to remotely configure settings on mobile devices from a central location without having physical access to the device itself. This includes setting up Wi-Fi networks, configuring email accounts, installing software updates, managing app permissions, etc., which can be done quickly with minimal effort.
Additionally, remote deployment tools allow admins to push out new apps or content across multiple devices simultaneously with just a few clicks.
Application and Content Management Tools
Application management tools allow IT admins to install approved apps onto employees' mobile devices remotely while ensuring they remain updated with the latest version available.
Content management tools help protect sensitive data by allowing IT teams to restrict what type of files users can download onto their phones or tablets while also providing visibility into how these files are used within an organization's network environment.
How to Choose the Right Mobile Device Management Solution for Your Business?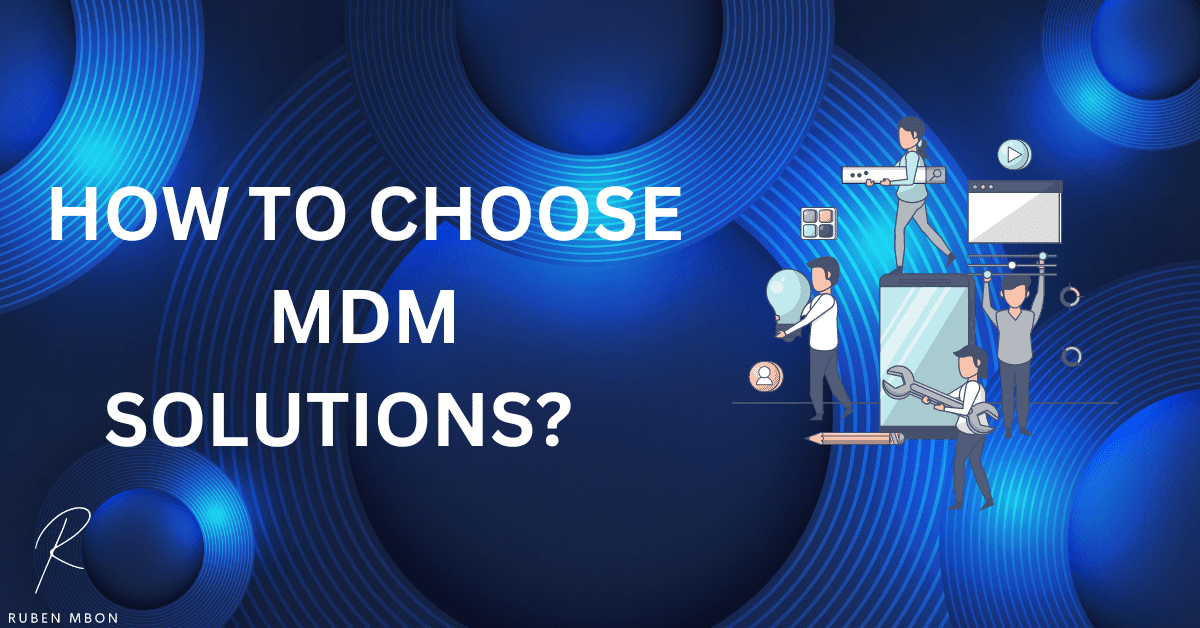 It provides the tools and processes needed to secure, manage, and monitor mobile devices used by employees. Choosing the right MDM solution for your business can be daunting, but it doesn't have to be.
Identify Your Needs and Goals for MDM Implementation
Before selecting an MDM solution, you need to identify your specific needs and goals. What type of devices do you need to manage? Are they company-owned or employee-owned? Do you need features such as remote configuration or application management? Once you have identified your needs and goals, it will be easier to narrow down the list of potential solutions that meet those requirements.
Research Different Types of MDM Solutions Available on the Market Today
Once you know what features are essential for your organization's needs, start researching different solutions available today. Several options include on-premise, cloud-based, hybrid, and more. Each has its advantages and disadvantages, so compare them carefully before deciding.
Consider Cost, Scalability & Ease Of Use When Choosing
Cost is always important when choosing an MDM solution since upfront costs may be associated with hardware/software purchases and ongoing maintenance fees, depending on your choice.
Additionally, consider scalability – how easily can this system grow with your business if needed in the future? Lastly, ease of use should also consider – how user-friendly this system is from both the administrator and end-user experience perspectives.
All these factors should help guide the selection process when looking at various available options today.
Best Practices for Implementing Mobile Device Management in Your Organization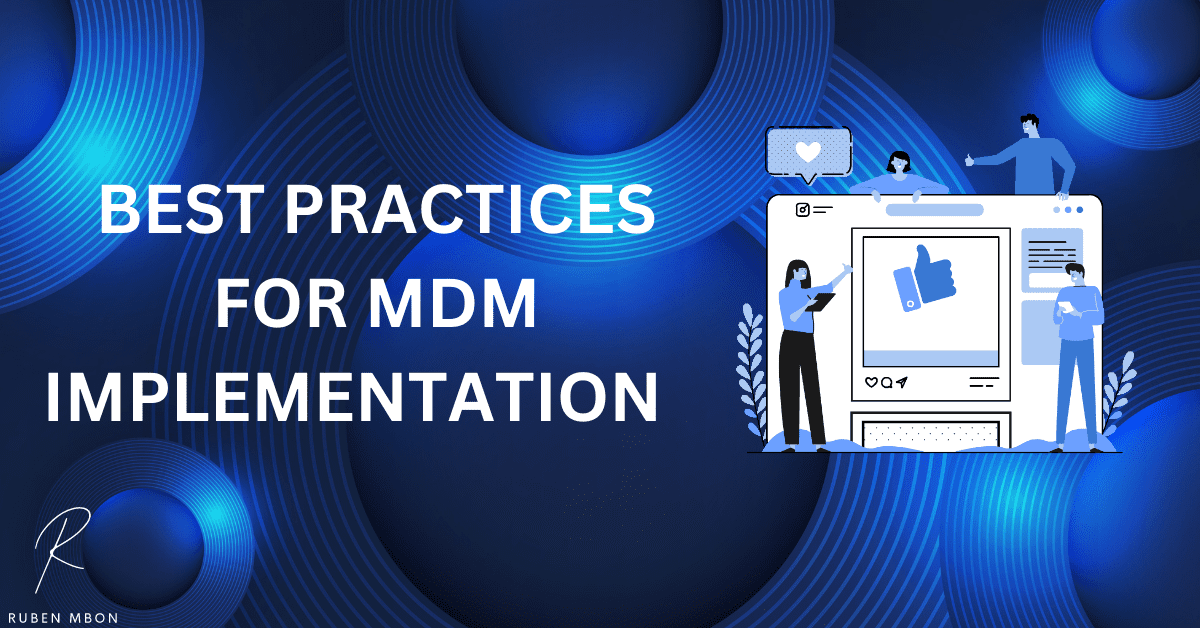 To ensure the successful implementation of MDM in an organization, it is important to follow best practices for managing mobile devices.
Establish Clear Policies and Procedures for Managing Devices
Organizations should create clear policies and procedures that outline how employees can use company-owned or personal devices on the network. These policies should include rules regarding data storage, access control, password requirements, encryption protocols, remote wipe capabilities, and more.
Educate Employees on the Proper Use of Company Devices
Once policies are established, it is essential to educate employees about proper usage guidelines so that they understand what is expected of them when using company-owned or personal devices on the network. This includes topics such as acceptable use policy (AUP), privacy settings/permissions management tools available within the organization's MDM solution, etc.
Monitor Usage Regularly to Ensure Compliance with Policies
Organizations must also regularly monitor employee device usage to ensure compliance with established policies and procedures. This can be done through automated monitoring systems which track user activity across all connected mobile devices in real-time and alert administrators if any suspicious activities are detected.
Additionally, organizations should audit their networks periodically for unauthorized access attempts or other malicious activities that could put corporate data at risk.
By following these best practices for implementing MDM solutions in an organization, businesses can protect themselves against potential threats while ensuring their employees have access to secure resources.
Proper implementation of policies and procedures, education on proper usage guidelines, and regular monitoring of user activity are all essential components of a successful MDM strategy. By taking the necessary steps to ensure compliance with established policies and procedures, organizations can ensure that their data remains safe from malicious actors.
Challenges Faced When Implementing Mobile Device Management Solutions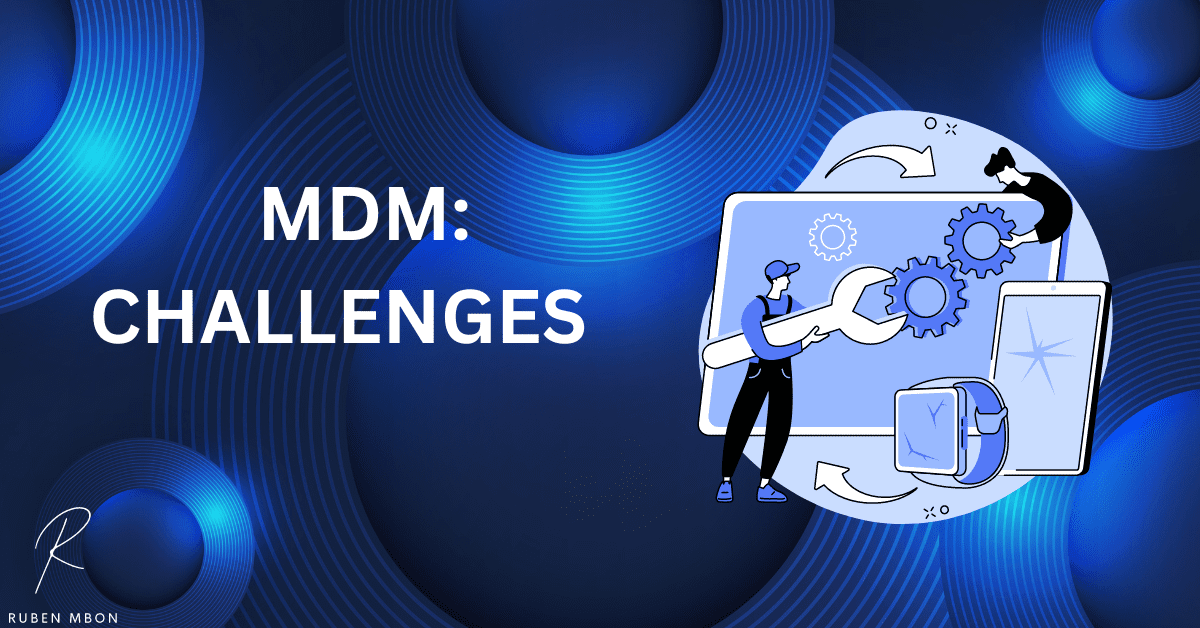 Businesses may face several challenges when implementing mobile device management (MDM) solutions.
One of the most common is the costly upfront investment in hardware and software necessary to get an MDM system up and running. This can be especially difficult for small businesses with limited budgets or resources. Additionally, integrating existing systems or networks with an MDM solution can be challenging due to compatibility issues between different platforms.
Another challenge faced when implementing MDM solutions is employee buy-in or understanding of policies related to using company devices. Without proper education on these policies, employees may not understand why certain restrictions exist or how they should use their devices responsibly while at work.
Furthermore, there are security risks associated with MDM solutions that must also be addressed. Unauthorized access to sensitive data stored on mobile devices can occur if permissions and settings are not correctly configured by IT staff members responsible for managing them.
Finally, vulnerabilities in third-party applications used on these devices could lead to malicious attacks against corporate networks if left unchecked by administrators monitoring them regularly for suspicious activity.
Frequently Asked Questions
What does mobile device management do?
It provides centralized control over all aspects of mobile device management, including security settings, application deployment, software updates, and user access. MDM also helps protect corporate data from unauthorized access by allowing administrators to remotely lock or wipe lost or stolen devices.
What are four methods of mobile device management?
1 – Mobile Device Management (MDM) Policies: MDM policies are used to define and enforce rules on mobile devices, such as password complexity requirements, app installation restrictions, and data encryption settings.
2- Remote Wipe: This feature allows administrators to remotely erase all the data from a device if it is lost or stolen.
3- Application Whitelisting/Blacklisting: Administrators can whitelist certain apps that they deem safe for use on their network while blacklisting any apps that could be malicious or pose a security risk.
4- Network Access Control (NAC): NAC provides an extra layer of security by allowing only authenticated users access to the corporate network via their mobile devices using authentication protocols like 802.1x and RADIUS server authentication methods.
Why is mobile device management important?
Mobile device management (MDM) is an important part of any organization's cybersecurity strategy. MDM helps protect corporate data and networks by providing a secure environment for mobile devices like smartphones and tablets. It allows IT administrators to manage the security settings on all mobile devices connected to the network, ensuring that only authorized users can access sensitive information. Finally, MDM solutions provide detailed reports on user activities, allowing organizations to identify potential threats or suspicious behaviors quickly.
What is mobile device management Iphone?
Mobile Device Management (MDM) is a technology that remotely manages mobile devices such as iPhones. It allows IT administrators to securely configure, deploy, monitor, and update the settings of their organization's mobile devices, including iPhones. MDM also helps protect corporate data by providing security features such as password enforcement, encryption, and remote wiping of lost or stolen devices. Additionally, it can be used to track device usage and enforce compliance with organizational policies.
Conclusion
MDM solutions efficiently manage many devices while providing features such as remote lock/wipe capabilities and data encryption. When selecting a MDM solution for your business, it is important to consider the key features offered by different vendors and choose one that best fits your needs.
Additionally, implementing best practices when deploying MDM in your organization can help you maximize its effectiveness. With careful planning and implementation, organizations can leverage the power of mobile device management solutions to protect their data from unauthorized access or misuse.